August 9, 2021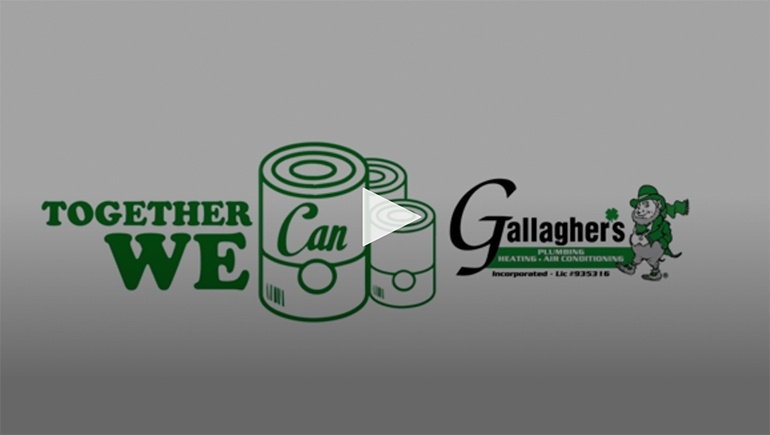 Since 1989, Gallagher's Plumbing, Heating and Air Conditioning has provided professional, expert HVAC services to homes in Sacramento and the Northern Valley. We are more than a heating and cooling company. We are a part of this community, and this is where we raise our families. As part of our company philanthropy efforts, we are introducing the 5-Can Tune-Up Program.
What Is the 5-Can Tune-Up?
Our 5-Can Tune-Up Program provides our customers with special discounts when they donate five cans of food for the local food bank. The discounts can be used on routine HVAC maintenance services. If you want to help with this important cause, give us a call to schedule an appointment with a technician. During the appointment, give the technician five cans of food, and you will receive the discount. Even if you are not interested in HVAC maintenance services at this time, we will gladly take canned food donations at our office. Just call us for more details.
How Does the 5-Can Tune-Up Benefit the Sacramento Area?
Food insecurity and hunger are growing issues in the United States and in the Sacramento area. Many families have lived for years without adequate food and nutrition. Unfortunately, our local food banks are stretched thin with resources and in desperate need of donations. All canned food donations from our 5-Can Tune-Up Program go to Sacramento Food Bank & Family Services, Yuba-Sutter Food Bank, Dignity Health, and North State Food Bank. We encourage everyone to contribute in every way possible to support these critical non-profit organizations that do so much for Sacramento families.
Care and Maintenance of Your Heating and Cooling System
Your heating and cooling system is designed to last for a certain amount of time. On average, home HVAC equipment will last about 15 to 25 years, but you need to take care of it to see a good return on your investment. Routine maintenance includes changing filters, performing repairs, and other tasks. If you overlook the required maintenance, you could not only be replacing the unit sooner than expected, but you may also void your warranty. Fortunately, you can do many of the jobs required to maintain your heating and cooling system by yourself, while others should be performed by a professional HVAC technician.
Benefits of HVAC Maintenance
Here are five surprising benefits of HVAC maintenance by Gallagher's Plumbing, Heating and Air Conditioning for Sacramento homes.
Reduces airborne particles, such as dust, bacteria, viruses, pet dander, and odors
Lowers the cost of operation and monthly utility bills
Minimizes the need and cost for emergency repairs
Ensures that the units run efficiently
Maximizes your investment in heating and cooling equipment
Minimizes the risk of fires due to electrical problems
May boost the value of your home and property
How HVAC Maintenance Reduces Energy Use
Any heating and cooling system is labeled by the manufacturer to provide details about what the consumer can expect regarding energy efficiency. These metrics are based on ideal testing conditions that are found within each manufacturing facility. Because the environments of Sacramento homes may not reflect these same ideal conditions, there are steps that you need to take in order to maximize the energy-saving benefits. The most important is keeping the filters clean. Filters are designed to trap airborne particles, such as dust, pollen, and pet dander. Over time, the filters clog up with the particles, and your HVAC system works harder. The unit will run longer to maintain the desired temperature, and this means more energy is used. Routine maintenance also protects the smaller components of the unit. When these components wear down with use, the system cannot operate as designed. Even the smallest bit of normal wear and tear can significantly impact how much energy you use each month. HVAC maintenance keeps the entire system clean, and in good working order, so you use less energy each month to stay comfortable.
Fall HVAC Maintenance
Gallagher's Plumbing, Heating and Air Conditioning recommends routine maintenance on your HVAC system in the autumn. This is also a great time to help with our 5-Can Tune-Up Program. Many families struggle with food insecurity and hunger throughout the year, and the holiday season is especially difficult. You can help by scheduling maintenance services with one of our technicians and donating five cans of food during the appointment. The technician will:
Change the filters and recommend upgrades, such as HEPA filters and air quality products
Identify any potential repairs and provide an estimate for the work
Check the electrical wiring and other components
Inspect ductwork for signs of damage or needed duct cleaning
Test the thermostat and recommended upgrades, such as a programmable thermostat
Check for uneven temperatures in your home and recommend upgrades that can help, such as zone systems
Prepare your air conditioning system for the winter
Spring HVAC Maintenance
Spring HVAC maintenance services from Gallagher's Plumbing, Heating and Air Conditioning include the same areas as our autumn services. We prepare your heating system for summer and check your AC to make sure that it is working properly to keep you cool all summer. Spring is another great time to help with our 5-Can Tune-Up Program because many children are out of school and rely more on their parents for regular meals throughout the day.
Professional Repair Services
As a full-service HVAC company, Gallagher's Plumbing, Heating and Air Conditioning offers routine and emergency repair services for all makes and models of heating and cooling systems. We can also help with your plumbing needs. Even if you need help in the middle of the night or on the weekends, we are there with our 24/7 emergency repair services.
Upgrading Your Heating and Cooling System
When we perform an energy audit during your routine HVAC maintenance appointment, we may find areas that can be improved to extend the lifetime of your heating and cooling units, as well as reduce your energy consumption each month. We carry a full line of digital thermostats, air quality products, zone systems, and much more, so you feel confident in your decision to update your current system.
Replacing Your HVAC System
Should the time come to replace your heating and cooling units, rely on the experts at Gallagher's Plumbing, Heating and Air Conditioning. We guide you through the entire buying process to ensure that you purchase the best HVAC equipment for your home, family, and budget. The most challenging part of replacing a heating or cooling unit is knowing the best size for your needs. Our technicians are experts with the necessary calculations, and our entire staff has in-depth knowledge about the many options for residential HVAC systems.
Learn More About Our 5-Can Tune-Up Program
At Gallagher's Plumbing, Heating and Air Conditioning, we have been committed to the Sacramento and Northern Valley communities since 1989, and we are proud to offer our 5-Can Tune-Up Program to help families in need. If you would like to learn more about the program and our services, call us today and schedule an appointment with one of our licensed technicians. Be sure to ask about our other heating, cooling, and plumbing services, including installations, repairs, and maintenance.